Hope Academy's curriculum is designed to foster growth and development in all students. The curriculum emphasizes an ethical worldview and integration of knowledge and practice, with an international perspective, in all subjects. Hope Academy is aligned with the Common Core curriculum used in the United States but has been adapted for international implementation. It offers numerous Advanced Placement (AP)®  courses in grades 11-12. In 2022-2023, a new science curriculum was implemented following Next Generation Science Standards (NGSS) in elementary and utilizing Argument-Driven Inquiry in secondary.
All classes are taught in English and foreign languages are offered as well, such as Korean and Russian.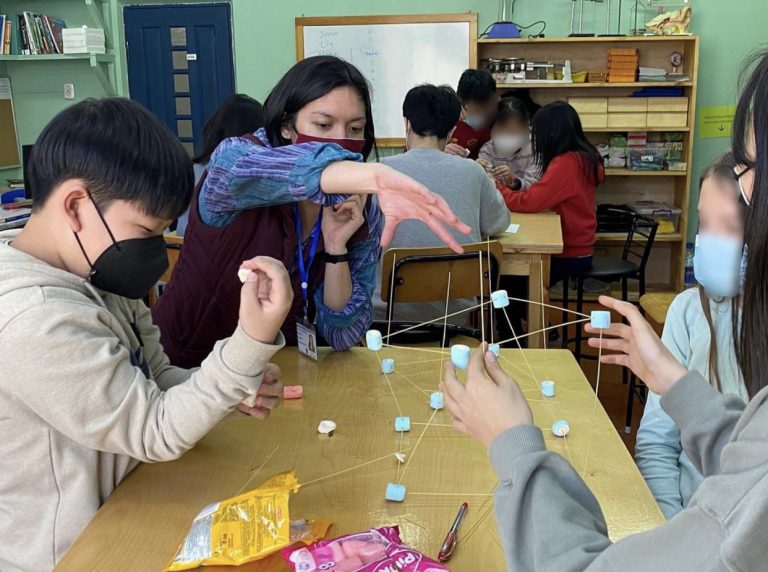 Elective subjects: A wide variety of electives are provided to students, such as music, art, computer applications, and physical education. The secondary school offers a variety of additional options such as public speaking, creative writing, graphic design, photography, outdoor education, music theory, drama, cooking & more.
Students must attend Hope Academy for at least their entire twelfth-grade year to receive a Hope Academy diploma.  >95% of students graduate with a University Preparation Diploma.  A "General Diploma" is an alternative, which allows more electives and fewer academic subjects.  A total of 24 credits, as shown, are required to graduate.  High-school graduation also requires 30 hours of volunteer service each year. 
1 credit = 2 semesters of 225 minutes of class per week
University Preparation Diploma requirements are shown in parentheses
when different from General Diploma.
* Either math, science, or social studies must have 4 credits
for the University Preparation Diploma.
**Electives must include at least 1 credit of Fine Arts.